Kilta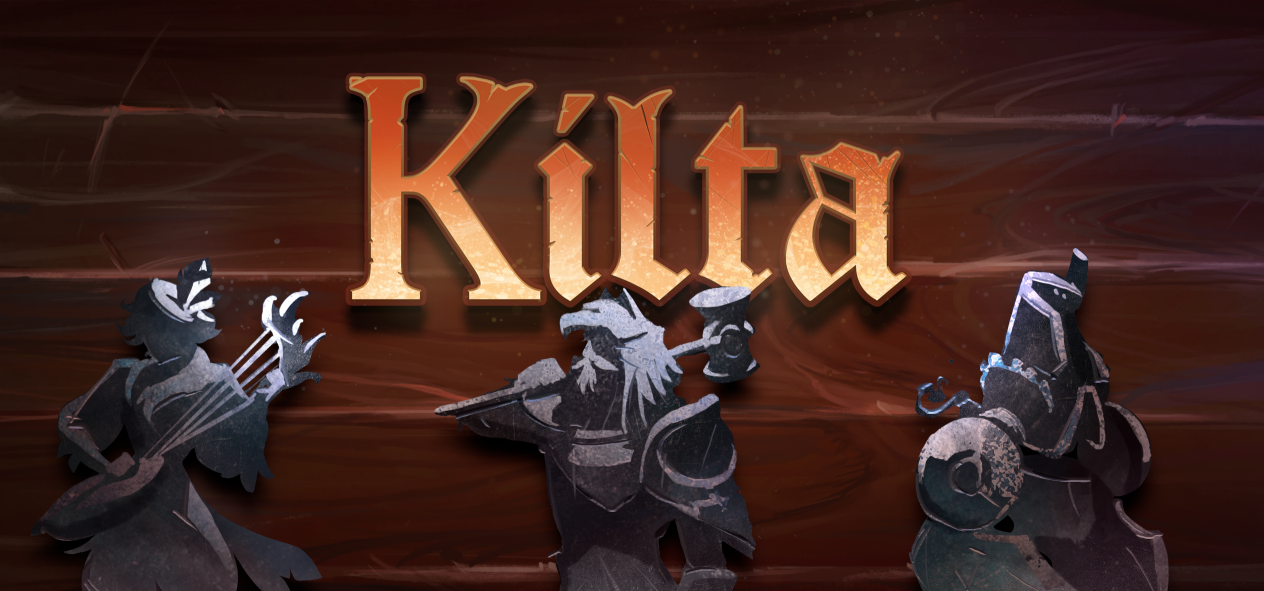 Kilta is a single-player auto battler strategy RPG featuring item management, an interesting story supported by a growing cast of unique characters, charming pixel art in a 2.5D environment, and a stunning soundtrack.
---
Kilta can be downloaded and installed via
Steam only

. Each purchase comes with a Steam key that allows the game to be activated on Steam.
---

Join our Discord server and take part in the development of Kilta! At all times, we welcome everyone to join the discussion, talk directly to us, and provide us feedback about the game.
---
Kilta is a game about being a Guildmaster of a newly established guild. The guild accepts commissions and quests from all walks of life firstly to promote the common good and secondly to grow as an association. A party needs to be dispatched to take on the challenges and earn glory and recognition, as well as hefty rewards for the guild. It's the Guildmaster's responsibility to assign the party to suitable missions and equip them accordingly.

GROW YOUR GUILD
Recruit new guild members from a growing cast of heroes. All heroes are unique with their characteristics, abilities, and dialogue. Should you recruit Rufus, the mighty macaque guardian that excels in traditional martial arts known to his people? Or Maryu, the heart-warming but savage old lady that can curse your opponents?
HONE YOUR LEADERSHIP
Always check what enemies your party is going to face in the upcoming quests. By equipping better items, choosing correct party members, and checking enemy compositions you can minimize your losses and always topple your foes. Try to find the perfect (or the most broken) combinations of heroes and items!
MANAGE YOUR INVENTORY
Items are divided into weapons and equipment. One of your tasks as the Guildmaster is to equip your heroes with whatever you have at hand. Items are earned through quests and occasionally through dialogue. There are no character-related restrictions on the items. You are free to experiment with different combinations of items and discover the most powerful builds.
THE BLACKSMITH
Always remember to pay a visit to the Blacksmith. The Blacksmith can combine your surplus items to forge more powerful items.
GUILDMASTER SKILLS
As the Guildmaster, you have a growing repertoire of Guildmaster Skills that you can bestow to your party when they embark on a quest. These skills are both blessings and curses that can turn the tide of battle and possibly avoid the annihilation of the party.
COMBAT
The auto battling combat system delivers tactical and engaging action. When the party comes across enemies on their quests, they have to engage them in battles. At the beginning of each battle, it is important to consider the enemies, their abilities, and their formation when positioning your heroes. The heroes will fight by themselves but your preparations will ultimately decide the outcome. In appearance, the battles offer explosive visuals, insanely good music, and cinematic camera action.
WHAT KIND OF GUILDMASTER ARE YOU GOING TO BE?
Every hero has a background that they may want to share with you. Most often the heroes are arguing by themselves and it's up to you to resolve their conflicts in a way or another. Some choices might lead to surprising outcomes that can even affect the results of the battles up ahead. Are you a caring and capable leader or do you swing to be the worst kingpin of them all?
---
This Steam Early Access game is currently not a finished game and may or may not change significantly over the course of development. To learn more about Steam Early Access, please visit http://store.steampowered.com/earlyaccessfaq/.


Purchase
In order to download this game you must purchase it at or above the minimum price of $12.99 USD. Your purchase comes with a Steam key. You will get access to the following files:
Activation Instructions.pdf
62 kB